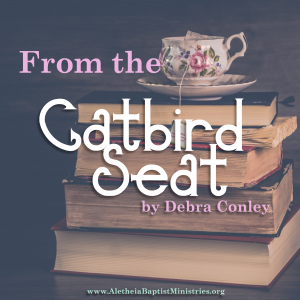 Debra Conley is a retired literature teacher and now edits, writes and consults in various capacities. Her 25+ years of classroom experience both in public and private institutions provides us with a professional and much needed perspective.  How are we training up the next generation both in the traditional school setting and in Sunday School?  What can we do better?  Where do I find education resources?
"From the Catbird Seat" is a collection of articles specifically geared toward elementary school and high school learning.
The omniscient view, as this column's title phrase suggests, is not within the human realm.  My hope, however, is to draw upon 25+ years of classroom instruction in both public and private institutions, as well as my experience as curriculum director and home-school implementation coordinator.  This experience has provided valuable insights into core curriculums that work, ones that do not, and supplemental programs which you as a parent may find needful and helpful.  I will also continue to review books for you, especially with the idea of using such books in supplement to your current public, private, or home-school study program.  Those book reviews are included in "The Book Shelf".
What is "core" curriculum?  This refers to the primary resource for learning a subject that an instructor or school system has chosen to use.  It should have a name — Harcourt Brace or A Beka, for example.  It should be designed to supply certain minimum learning steps and or premises of each primary subject.  These primary subjects are math, science, language, and social studies/history.
In the February 2001 issue of Aletheia, I will begin a series advising you about what to look for in a core curriculum and how to evaluate if it is a good program.