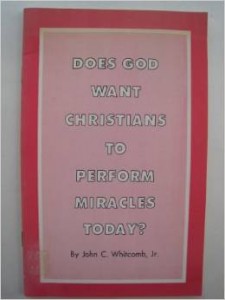 Author: Bryan, William Jennings, Drummond, Henry, Laidlaw, Robert A., McClain, Alva J., McGee, J. Vernon, Moffatt, James, Newell, William R., Ng, Peter, Regular Baptist Press, Reid, William, Revival Literature, Ryrie, Charles, Strauss, Lehman, Sumner, Robert L., Talbot, Louis, Whitcomb, John
Genre: Theology - Baptist, Theology - Bibliology, Theology - Eschatology, Theology - General
Series:
Tags: Christian Living / Cross / Discipleship, Doctrine / Theology, Eschatology, Third Wave / Signs & Wonders / Cessationism
---
Rick Shrader's Review:
Vital Issues of the Year
By RBP, Various Authors
Regular Baptist Press published this booklet in 1973. It was for the purpose of keeping the GARBC churches informed of various issues at the time. They include: evangelism and missions, the ecumenical movement, the charismatic movement, alcohol, drugs, the sexual revolution, race relations, divorce, the occult, church and state and social responsibility. It is interesting to see the way some issues change over the years and others don't. This issue was very cautious about questionable social issues but very direct on things such as ecumenicity or separation of church and state. The best section was on the charismatic movement by Robert Lightner. His reasons for sign gifts ceasing makes this booklet worth having.
The Blood of Jesus
By Rev. William Reid
This is an excerpt from a larger writing of Rev. Reid in 1866. His preface is signed, 3 George Square, Edinburgh, January 1863. I happen to know where that is. I thought this booklet might be about a defense of the blood of Christ, whether He literally took it to heaven or not, or something like that. But no, this is an excellent treatise on the all-sufficiency of the blood of Christ for salvation, that it alone can save without human work or merit, written in that old Scottish style. A real blessing to read. The copy I have was printed by Liberty Bell Press, Florissant, MO, in 1966.
The Greatest Thing In The World
By Henry Drummond
This little booklet is a short treatise on 1 Cor. 13, "The greatest of these is love." Scripture Truth printed this edition and it has a forward in it from D.L. Moody in which he said, "It seemed to me that I had never heard anything so beautiful, and I determined not to rest until I brought Henry Drummond to Northfield to deliver that address." It is very good on the aspects of love. I thought the gospel explanation at the end was not as good.
The Church and the Great Tribulation
By Wm. R. Newell
This is a great defense of the pretribulational rapture of the church by this great theologian and commentator. It was written in 1933 and printed by the Union Bible Study Association. He says, "The folks who talk about the Church going through The Tribulation don't realize Church truth." "The 70th week of Daniel that last seven years, has two halves, in neither of which the Church can be on earth." "Scripture shows there will be at least seven years between His coming for His Church and His coming with them."
Predestination
By James Moffat
Moffat (1870-1944) was a British professor of Greek and Church History, spending his last years at the liberal Union Theological Seminary in New York. This is a rather interesting (and fair-minded) treatment of the doctrine. His thesis is, "Predestination is the determination of God to make men like Christ because they believe in Him, and not to make men believe in Him because they are meant to be like Him."
Does God Want Christians to Perform Miracles Today?
By John C. Whitcomb, Jr.
Dr. Whitcomb wrote this in 1973 while still teaching at Grace Seminary. Here he gives the common but good reasons for a cessationist point of view. He has a great section of the "greater works" of the gospel of resurrection superseding apostolic miracles and an appendix from B.B. Warfield from his book on Miracles about history's testimony to miracles ending with the apostles.
Daniel's Prophecy of the Seventy Weeks
By Alva J. McClain
This is a 1940 study on Daniel's prophecy from Dr. McClain. Here he defends the traditional "gap interpretation" (as he calls it) between the 69th and 70th weeks. He follows Sir Robert Anderson's chronology for the timing of the weeks (The Coming Prince). Among many great points, I liked his defense of the Antichrist being revealed immediately when the covenant is signed and his reasons for placing the middle of the tribulation period in Revelation chapter 11 with 42 months past and 1260 days to go.
Let's Talk Turkey
By Charles C. Ryrie
This 44 page booklet by Ryrie was written while he was president of Philadelphia School of the Bible between 1958 and 1962. It contains seven chapel messages that Dr. Ryrie would bring to the students each year encouraging them to remain faithful and diligent to their calling while at Bible College. Ryrie began his long and distinguished teaching career in 1948 at Westmont College and is best known for his many years until retirement at Dallas Theological Seminary. The reader gets a little different picture of Ryrie when he is speaking to students about usual college problems such as class attendance, homework, personal standards and rules of the college. The messages include topics such as sowing and reaping while in school, the wages of sin, Satan's counterfeits, and advantages and disadvantages of marriage while in school. About sin he writes, "Every sin becomes a part of your personal history. You can confess it, God will forgive you, it will be remembered in condemnation against you no more but it is still part of your personal history. If you fail a course, you can and should confess it, but it is still on your record. If you do not study to your capacity you may pass the course, but it will always be a fact of history that you did not learn certain things that you should have."
The Reason Why
By Robert A. Laidlaw
Robert Laidlaw was a Plymouth Brethren Christian businessman in New Zealand. He was well-known in America and Great Britain as a Bible expositor. Interestingly, he married the sister of well-known expositor H.A. Ironside. There have been over 16 million copies of this booklet printed in 30 different languages. It is actually a large gospel tract that progresses from the existence of God to the reliability of the Bible to sin and redemption in Christ. It is filled with practical applications and illustrations with which the author makes his points. He says, "There are some people who still pose the question: How could the Lord Jesus Christ's one life be considered the substitute for the lives of so many, so that God offers salvation to whosoever places their faith in Christ?" He answers by this illustration: "Get a sheet of paper and write down all the big figures you can think of—millions or more—add them up. . . Then multiply it by 10—100—by a million if you like—cover sheets of paper, and after all you still have a finite number—a number that has bounds set about it—it has a beginning and an end, however far it may be extended. No, by adding finite things together no man has ever been able to make that which is infinite. The infinite life of Christ given for sinners is more than sufficient to save all who accept Him as the One Who died for them."
Fins and Scales
By Louis T. Talbot
This is a 1942 booklet by the founder and first president of Talbot Theological Seminary, who at the time was the pastor of the Church of the Open Door in Los Angeles, and the president of the Bible Institute of Los Angeles. As is the case with many of these older booklets, Talbot is seen in his very conservative days. We remember too that he was a solid dispensationalist and pretribulational premillennialist. In these 35 pages, Talbot takes his text from the eleventh chapter of Leviticus on the clean and unclean animals. He writes in the introduction, "The cloven hoof represents a walk of separation from sin in a godless world. The chewing of the cud speaks to us of meditation upon the living Word of God, which alone can enable the Christian to walk with the Lord. The fins suggest power to rise above the degrading things that tend to drag us down in defeat. And the scales remind us of the Christian's 'whole armour of God,' given to enable him to resist the devil 'in the midst of a crooked and perverse generation.'"
Bible Translations
By Robert L. Sumner
This booklet was printed in 1979 by Sumner, the then editor of The Biblical Evangelist. Sumner was addressing the growing problem of the KJV Only position within Fundamentalism. The booklet is a good summary of the fundamental position and shows that major schools and people within fundamentalism were not and have not been KJV Only. He includes Tennessee Temple Schools, Bob Jones University, Central Baptist Seminary, John R. Rice and the Sword of the Lord, H.S. Miller, A.T. Robertson, B.B. Warfield, James M. Gray, W.B. Riley, George Dollar, R.A. Torrey, Moody and Spurgeon, G. C. Morgan, B.H. Carroll, John Broadus, and many others.
He Is Coming Again!
By J. Vernon McGee
I am often asked about J. Vernon McGee by folks in the church. McGee was a solid Bible Teacher, even teaching for a while at Dallas Seminary. He is best known for his Through The Bible ministry on radio. I have a number of booklets by McGee on the first and second comings of Christ. On the second coming he writes, "The second coming of Christ is in two phases, it is a drama of two acts. The first is what we please to call the "Rapture." Christ Himself was the first to speak of it. You will find no reference to it until you come to the fourteenth chapter of John's Gospel, where He tells of taking people off this earth up to a place which He is going to prepare. [quotes John 14:2-3] This is the first phase of His second coming. But Christ spoke also of His coming to establish His Kingdom upon this earth in power and glory."
Creation According to God's Word
By John C. Whitcomb, Jr.
John Whitcomb is always worth reading. He is best known for co-authoring The Genesis Flood with Henry Morris, and his years as professor of Old Testament at Grace Theological Seminary in Winona Lake, IN. This booklet was printed in 1966 and contains three messages that Dr. Whitcomb delivered at Alger Park Christian Reformed Church. The first message is "The Nature of Biblical Creation" showing that creation was supernatural, sudden, and with the appearance of age. The second message is "The Creation of Plants and Animals" which deals with the geologic time table, the abundance of life at creation, and the limits God placed on variation within the species. The third message is "The Creation of Mankind" which includes the dignity of man, problems with theistic evolution (speaking directly to J. Oliver Buswell and B.B. Warfield), the creation of Adam's body, and the antiquity of man. Whitcomb writes (in 1966!), "Our basic problem today in the question of origins is not so much that we are ignorant of the theories and speculations of men. Our problem too often is that we neither know the Scriptures nor the power of God, and therefore deeply err in communicating God's message to modern man."
When Loved Ones Are Taken in Death
By Lehman Strauss
Lehman Strauss (1911-1997) taught at Philadelphia School of the Bible and pastored in Baptist churches, writing several books and commentaries. This booklet is a common-sense look at death and dying. It encouraged me as a pastor to continue to point believers to their faith in Christ as their only comfort when loved ones die or when they face the Jordan as well. I have traced over 20 different analogies to the believer at death which the Bible portrays. Strauss included these: that death is like sleep from which we will be awakened, like a departure in a ship to a distant land, and like an exodus, a "going out" from this world to the next.
The Bible or Evolution?
By William Jennings Bryan
William Jennings Bryan (1860-1925) was best known for his part in the Scopes trial of 1925 in which he argued for a conviction of John Scopes, who was defended by Clarence Darrow, for teaching evolution in the public school. Bryan actually won the decision although it was reversed later by the judge. Interestingly, Bryan was asked by William Bell Riley to represent The World Christian Fundamentals Association in the case. It is generally forgotten that Bryan served as secretary of State under Woodrow Wilson, and was the Democratic candidate for president three times. It is somewhat amazing to read this booklet, which could be written by any conservative creationist today, and think what is must have been like to actually have Federal Government officials defending God and the Bible. The booklet is concluded with these words:
"Evolution, theistic and atheistic, carried to its logical conclusion, robs Christ of the glory of a virgin birth, of the majesty of His deity, and of the triumph of His resurrection. That kind of Christ cannot save the world. We need the full statured Christ of whom the Bible tells; the Christ whose blood has colored the stream of time, the Christ whose philosophy fits into every human need, the Christ whose teachings alone can solve the problems that vex our hearts and perplex the world."
The booklet was first published by Moody Press. The edition I have was reprinted by the Sword of the Lord when John R. Rice was still editor, but does not contain a date.
The Fundamentalist and Missions
By Peter Ng
The World Congress of Fundamentalists was begun in 1976 with Ian Paisley and Bob Jones III as co-chairs. The first meeting was held in Usher Hall, Edinburgh, Scotland. I have three booklets of messages from the congress. Messages were delivered by Ian Paisley, Bob Jones and Bob Jones, III, Rod Bell, Wendell Zimmerman, Ed Nelson, Truman Dollar, Wayne Van Gelderen, Tom Malone, and others. In 1980 a second congress included Ray Comfort, Arno Weniger, Jr. and others.
This booklet was printed by Bob Jones University in 1976. I do not know who Peter Ng was or is (such an odd name would be remembered) but his presentation at the congress was fundamental and separatistic. Even at that, Ng spoke against the social and political gospel but also encouraged churches to not shun helps and ministries that reached out to people in various ways. For example, he wrote, "In short, the Fundamentalist is mandated by the Triune God, and not by man or institution, to evangelize the world with the Gospel of Jesus Christ. The believer's mandate is to preach and live the Gospel to the change, transformation, and fruition of lives for God's glory. It is not to try to reform society, as the Modernists are doing with their social gospel. The social implications of the Gospel must not be overlooked, of course; but let the state do its business, and the church hers! And that does not stop the church from voicing her conscience against unfair, unjust, immoral, unethical, unchristian state laws and practices."
Philadelphia Baptist Confession of Faith
Tri-Centennial Edition
This is a booklet printed by Revival Literature of Asheville, NC. It is a reprint of the 1742 confession which was printed by Benjamin Franklin in 1743. It was the first Baptist confession which was printed for distribution in America and was the doctrinal confession of the Philadelphia Baptist Association which was formed in 1707. It only contains a short history and explanation of how the confession came about. Lumpkin gives a longer and more complete history. The Philadelphia confession represented the Calvinistic Baptists who were affected by the Great Awakening. Interestingly, this confession was greatly influenced by Benjamin Keach of London and his son Elias who was in America. By their influence it contained a new article on hymn singing.
Quotes from this book:
No items found