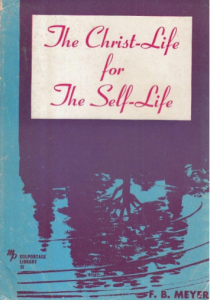 Author: Meyer, F.B.
Genre: Christian Living
Series:
Tags: Christian Living / Cross / Discipleship
Frederick Brotherton Meyer (1847-1929) was a Baptist pastor and author in England, writing over 75 books and pastoring four churches in Leicester and London.  While visiting America in the 1870s he became acquainted with D.L Moody and they became life-long friends.  Meyer often spoke at Northfield but was also a frequent speaker in the Higher Life movement at the Keswick Convention.  Meyer was a crusader against drinking and prostitution, closing hundreds of saloons and brothels in England.
This book is a book about the Christian life.  Except for a statement about the baptism of the Holy Spirit, Meyer sounds like a premillennial, eternal security Baptist. At the end of his life he wrote to a friend, "I have just heard, to my great surprise, that I have but a few days to live. It may be that before this reaches you, I shall have entered the palace. Don't trouble to write. We shall meet in the morning."
Quotes from this book:
No items found