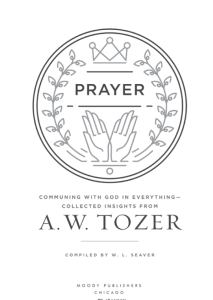 Author: Tozer, A.W.
Genre: Bible Studies / Devotionals, Christian Living
Tags: Prayer
---
Rick Shrader's Review:
It should be noted that this book on prayer is a 2016 Moody book and is a compilation of material from A.W. Tozer arranged, edited, and commented on, by W.L. Weaver. I list Tozer as the author only because he is the one in whom the reader is interested. Weaver includes 28 entries from Tozer on prayer taken from various books, articles, and sermons. Tozer (1897-1963) is one of the most quotable authors of recent history (though one of the least imitated due to his godly lifestyle). He was a self-taught theologian and pastor. He spent 44 years in pastoral ministry, mostly with the Christian and Missionary Alliance (CMA), finishing 30 years as the pastor of Southwest Alliance Church in Chicago.
"Some churches now advertise courses on how to pray. How ridiculous! That is like giving a course on how to fall in love. When the Holy Spirit comes He takes the things of God and translates them into language our hearts can understand. Even if we do not know the will of God, the Holy Spirit does know, and He prays with groanings that cannot be uttered. These disciples were praying people—in the book of Acts you will find them in prayer meetings. But before that, they would fall asleep. The difference was by the Spirit—now they had great delight in prayer" (p. 12).
Quotes from this book:
No items found