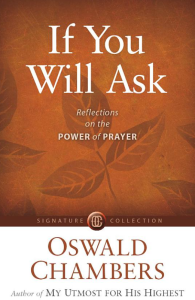 Author: Chambers, Oswald
Genre: Bible Studies / Devotionals, Christian Living
Tags:
---
Rick Shrader's Review:
Oswald Chambers (1874-1917) began as a Baptist pastor and ended his ministry in the holiness movement. He is best known for his book, My Utmost for His Highest. This book on prayer has many good things about it. It also shows some of Chambers' holiness doctrines such as the subsequent baptism of the Holy Spirit (46), the spiritual kingdom of God (25,61), visions (47), and the removal of the old nature (111). However, his words on prayer are usually good.  He writes, "There is a real danger of worshiping prayer instead of praying because we worship. It is easy to do if we lose sight of our Lord and put the emphasis not on His command but on the thing that He commands"  (102). "A thing is worth just what it costs. Prayer is not what it cost us, but what it cost God to enable us to pray. It cost God so much that a little child can pray. It cost God Almighty to much that anyone can pray" (24).
Quotes from this book:
No items found