Nottingham, England (#9)
Our very first trip to Nottingham, England, was both curious and disappointing. History books told us that William Carey had several meetings at the Angel Inn and the work of his Baptist Missionary Society began to take shape here. So we took the two hour train trip from London and upon arrival, decided to walk the steep hill to town. When we arrived at one of the oldest churches that we thought might be Carey's Friar Lane Baptist Chapel, we were met by a group of youngsters gathering there for a Halloween party. The Rector of the church met us, but sadly, he had never heard of William Carey.
So we headed for the other side of the old town section near the Nottingham Castle. It stands as impressive as most large fortresses do, complete with a statue of Robin Hood and plaques of the famous legend out front. We went inside and inquired about Carey of the Docent. He had never heard of Carey, either. Our next attempt was to contact the local librarian. Another strike, as she knew nothing of Carey.
Professor Rick had a picture of a plaque to Carey that was somewhere in Nottingham, but we never found it. We did find the original buildings and workings of the famous Lace District which still turns out thousands of yards of intricate lace work for markets all over the world. We ate the best Fish & Chips we have ever had right from a street vendor on the pedestrian square. But no plaque or information about Carey.
Three subsequent trips to Nottingham turned up nothing. Then last May, we made one last trip to find the plaque. We stopped in a small print shop (called "Christian's Printing") to inquire, and the owner remembered seeing the plaque on the under-street subway. That subway had been demolished a few years earlier, but he gave us specific directions as to where it had been. So we retraced the steps, becoming frustrated at finding nothing and facing the evening's darkness. As we headed back to the train, walking along Maid Marion Way, we glanced at a newly fenced in tree and there was the plaque! It had been re-done and moved to this tree which was the spot of the first Carey meeting. The bad news: the Fish & Chips stand was gone!
Friar Lane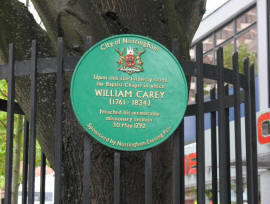 William Carey's Plaque
The Old Friar Lane Chapel