Moulton & Olney, England (#8)
Our history of William Carey is completed with a visit to two small villages in the picturesque English midlands. The Carey Baptist Church of Moulton still retains a famous mural  depicting Carey's life and the beautiful stained glass window with his memorable quote, "Attempt great things for God; Expect great things from God." The small home with its cobbler bench and teaching materials is well-preserved. In the one room cottage home, Carey worked as a cobbler while teaching young boys as they sat by his bench. Hand-drawn maps are quite accurate since Carey only had descriptions from books to use. He depicted the Americas as the "land of the savages." Carey's pulpit in the corner of the cottage reminds us of his first love.
The town of Olney is about 15 miles from Moulton, yet Carey walked there often to hear John Sutcliff preach (Sutcliff Baptist Church still exists on the main square) and eventually the two became close friends and prayer partners. Sutcliff allowed his church to be used for mission meetings and was instrumental in helping spur interest in Carey's work.
Olney is the location of John Newton's original church, St. Peter and St. Paul's Parish Church, a beautiful mix of gothic windows with a Norman tower. Inside you will find a stained glass window of Newton and a tribute to his most famous hymn, "Amazing Grace." Newton later moved to a church in London (St. Mary Woolnoth) where he served until his death in 1807. His remains were moved back to the churchyard at Olney by his family and the grave is well marked towards the back wall of the cemetery.
Newton was responsible for the conversion of the poet William Cowper. The two worked together on hundreds of hymn published in 1779 as The Olney Hymns. Cowper also wrote numerous poems and literary works, but his hymns, such as "There Is A Fountain Filled With Blood" mark his spot in our Baptist history. The Cowper Museum is worth the small price of 3 pounds for a tour of the house and orchard gardens. John Newton's home is across the orchard and Cowper and Newton often met in the Orchard to write and converse. Owned by a third party, the orchard was dubbed the "Guinea Orchard" by Newton and Cowper when they purchased the rights to walk through it for a Guinea.
John Newton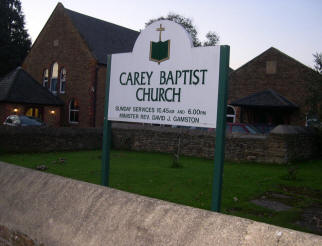 Carey Baptist Church