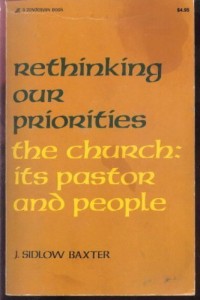 Author: Baxter, J. Sidlow
Genre: Theology - Ecclesiology
Series:
Tags: Baptist / Baptists, Church, Progressivism / Conservatism
Once in a while we stumble onto an older book and ask ourselves, ''How did I ever get by without reading that before?'' Such is the case with this old but timely book. Written in 1974, Dr. Baxter evaluates American Fundamental and Evangelical churches from a Britisher's point of view. He writes also from our point of view when he says, ''I myself am Baptist by thoughtful conviction.''
The great value of this book is as a balance. We are so immersed in staying abreast of the times and traveling to the latest church growth seminar that we often need our pendulum pulled back to center. But be ready to take the lumps if you dare to read. Dr. Baxter spares few words in his evaluation of our worship.
Some of his typical comments are, ''The average church service among evangelical churches over here is ragged and undignified.'' ''Somehow we simply must bring a more reverent worship into our gatherings.'' ''Frankly, I deplore the lax way in which many members dress for Sabbath day exercises over here.'' ''The church is not a hotel parlor, nor is the Lord's table a buffet counter!'' ''Instrumental music was introduced into public worship to assist congregational praise, not to smother it!'' ''It is that sort of Sunday morning menu which is destroying the power of American evangelical church services.''
I know that many would not have the patience or the latitude to read such a scathing book. It won't appear in any success-syndrome seminars. But I guarantee it will make you reevaluate your spirit of worship.
Quotes from this book:
No items found