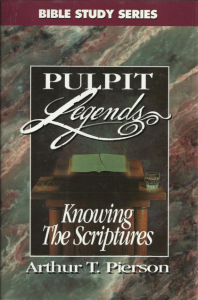 Author: Pierson, A.T.
Genre: Biography, Homiletics
Series: Pulpit Legends Series
Tags: Doctrine / Theology
Aletheia's Review:
This is one in a series of old books reprinted by AMG Publishers, Chattanooga, TN.  It was originally written by Pierson in 1910.  It is 50 chapters and 350 pages packed full of details, topical lists, grammatical helps and interesting outlines from the Bible.   This is a great refresher course in Hermeneutics, covering topics from inspiration and Bible translations (he was not a fan of the KJV) to lists of the miracles, parables and even occult references.  There are a few interesting older charts of the dispensations and dozens of lists of topics for Bible studies or personal enlightenment.
Quotes from this book:
No items found