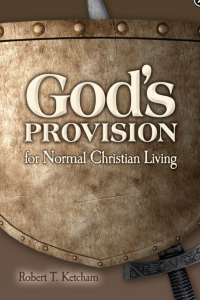 Author: Ketcham, Robert
Genre: Christian Living, Theology - General
Series:
Tags: Baptist / Baptists, Bible, Christian Living / Cross / Discipleship, Prayer
This is a 1990 edition of Ketcham's book which Regular Baptist Press is still offering.  Ketcham was one of the fathers of the GARBC movement and an outspoken fundamentalist.  This book emphasized three truths especially:  The Lord Jesus Christ in the believer's life; the Bible as God's inspired Word equal to the very words of Christ as God's incarnate Word; and the Holy Spirit as the believer's guide and power.  Ketcham has a unique explanation of the armor of God being the putting on of Christ Himself.  He also  presents the Holy Spirit as the possessor of the believer's body even from death until resurrection.  His explanation of the Bible and Christ being equal revelations of God is very good and I have only seen it similarly presented in a couple other places (one being in The Fundamentals).
Quotes from this book:
No items found