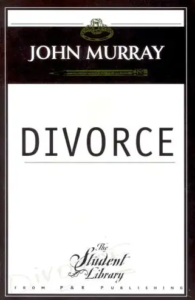 Author: Murray, John
Genre: Christian Living
Series:
Tags: Parenting / Family
---
Rick Shrader's Review:
Throughout my ministry I have read much from John Murray including many passages from this book, but I had never read the book cover to cover, concentrating on his view of divorce. Murray wrote the final edition of this book in 1961 toward the end of his long career (1930-1966) as professor of systematic theology at Westminster Theological Seminary. The reason this book is well-known is because Murray took the "innocent party" view of divorce many years before others of today (e.g. John MacArthur, Andreas Kostenberger). Murray covers three main sections: The Old Testament specifically at Deut. 24:1-4; The Gospels, including Matt. 5:31 & 19:9 dealing with the exception clause, and also Mark 10:7-9 & Luke 16:18; and then finally with Paul's statements in 1 Cor. 7:10-15.
Murray finds only two reasons for a Christian to divorce. 1) He takes the exception clause in Matthew to be reason to divorce when a spouse commits adultery with another person. That "innocent party" is also permitted to remarry without sin or penalty. Murray feels any divorce for any other reason leaves the two married in God's eyes and should be reconciled. 2) Murray takes Paul to mean that when an unbelieving partner deserts (and/or divorces) the believing partner, that believing partner is free to divorce (or be divorced) and also to remarry without sin or penalty. In both of these cases, Murray holds that the same rights are given to man or woman (husband or wife) depending on which is the offending or offended party.
Murray's explanation of the "innocent party" view has become a standard basis for the same view today. Though the book is only about 115 pages, it is a difficult read due to the technical nature, tight reasoning, and long footnoting.
Quotes from this book:
No items found