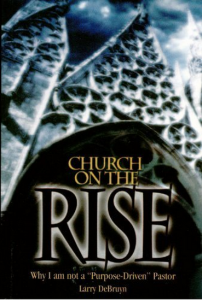 Author: DeBruyn, Larry
Genre: Theology - Ecclesiology
Tags: Methodology, Modern Authors / Theological Issues, Progressivism / Conservatism
---
Rick Shrader's Review:
As a pastor I am always looking for good and accurate information about those things which are present dangers to the church.  Sometimes the truth is brought to light by contrasting it with error.  Pastor DeBruyn (Th.M., Dallas) has added valuable light to the already growing stack of books on the contemporary church.  The sub-title, "Why I am not a 'Purpose-Driven' pastor," describes his conclusion after years of watching the current religious situation.  Pastor DeBruyn uses a depth of theological understanding and an ease with the biblical languages which afford a more than usual serious investigation into these things.
In addition to a good review of Purpose-Driven errors which are out there today, Pastor DeBruyn adds these unique perspectives:  a description of the "fire-marketing" technique used by Rick Warren and his publishers in the selling of his books; footnoted references to the tactic of teaching contemporary pastors to shame and label those who disagree and separate from their churches; a detailed chapter on music; and a very needed chapter on    sacred dance and why it cannot be defended from the Old Testament.
Regardless of one's theological perspective on certain "in-house" discussions, conservative pastors will find valuable help for his people in this book on many seriously dangerous issues.  The book may be obtained from the author at frbc@frbaptist.org.
Quotes from this book:
No items found