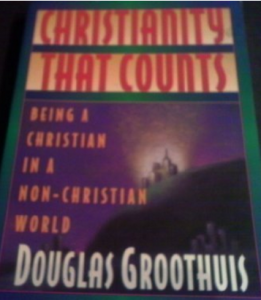 Author: Groothuis, Douglas
Genre: Theology - General
Tags: Christian Living / Cross / Discipleship, Culture / Worldview
---
Rick Shrader's Review:
This was my first book by Groothuis, an associate professor of philosophy and religion at Denver Seminary.  He has written three other books, all of which deal with the New Age movement.   He writes, "My hope is that these essays and reviews, written over the last ten or so years, will equip the reader to discern better the challenges of the modern world, to appreciate the rich resources of Christian truth, and to feel the need to speak the truth in love to our decaying culture."  Again, "The purpose of [this book] is to call Christians to be engaged by the gospel in ways that transcend a subjectivist, self-centered, and psychologized piety."
It's not as difficult reading as it may sound.  It begins with some fascinating chapters on Christian relevance in culture.  He says, "When a church pays little or no attention to developing a theology of culture, then it will take the path of least resistance.  Such a church will either follow the lead of popular culture or react against it by developing its own subculture that is nonetheless on the same level of appeal to 'the common man.'"
The second half of the book deals with contemporary issues such as feminism, abortion, the arts and a lengthy review of Al Gore's book and environmentalism.  Also is a chapter on the New Age movement on which the author is obviously versed.
Quotes from this book:
No items found