The Humility of Incarnation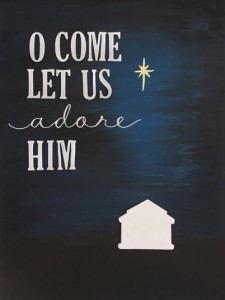 "Let this mind be in you, which was also in Christ Jesus: Who being in the form of God, thought it not robbery to be equal with God: But made himself of no reputation, and took upon him the form of a servant, and was made in the likeness of men: and being found in fashion as a man, he humbled himself, and became obedient unto death, even the death of the cross.
             Wherefore God also hath highly exalted him, and given him a name which is above every name: that at the name of Jesus every knee should bow, of things in heaven, and things in earth, and things under the earth; and that every tongue should confess that Jesus Christ is Lord, to the glory of God the Father." Philippians 2:5-11
A summation of the Christmas message is captured in this "kenosis" passage by the expression "made himself of no reputation." One of the most difficult things with which humans wrestle is the thought of having no reputation, of being found more as a servant than as a person of great fame and notoriety. Yet as Christians we are specifically instructed in this great passage to let this same attribute of the incarnate Christ be in us, to actually think that to be humble and obedient is good.
Every time I read through one of the gospel accounts of the life of Jesus Christ, I come to emotional frustration realizing that the very incarnate God was rejected, scorned, mocked, and crucified by a sinful world who actually deserved it, and yet He was as a Lamb who is silent before the shearers. "He came unto his own, and his own received him not" (John 1:11). "The Son of man came eating and drinking, and they say, Behold a man gluttonous, and a winebibber, a friend of publicans and sinners" (Matt. 11:19). "And when his friends heard of it, they went out to lay hold on him: for they said, He is beside himself" (Mark 3:21). "The Son of man must suffer many things, and be rejected of the elders and chief priests and scribes, and be slain, and be raised the third day. And he said to them all, If any man will come after me, let him deny himself, and take up his cross daily, and follow me. For whosoever will save his life shall lose it: but whosoever will lose his life for my sake, the same shall save it" (Luke 9:22-24).
Even the disciples, right up to the end, were much more happy to dream about sitting on thrones in the next life than to be stripped of reputation in this one, but that is exactly what their life was to be. "Ye shall indeed drink of my cup, and be baptized with the baptism that I am baptized with" (Matt. 20:23). Paul assured Timothy, "If we suffer, we shall also reign with him: if we deny him, he also will deny us" (2 Tim. 2:12); and Paul, having been stoned and left for dead admitted, "we must through much tribulation enter into the kingdom of God" (Acts 14:22).
I am not here thinking of the absolutely incredulous unbelief of the world in celebrating Christmas without so much as a mention of God, Christ, incarnation, or even a religious hymn. To them, Christmas is a mystical self exaltation in positive thinking. I am rather thinking of a much more difficult and manly belief, of accepting a good and religious life that, because of acceptance of Jesus Christ as Lord and Savior, submits itself to the same humble status as its Lord. "The disciple is not above his master, nor the servant above his lord" (Matt. 10:24). There will be time enough for reigning in that actual eternity when we also, similar to our Lord, will be highly exalted above our present calling. But Christmas to us is an historical fact. It is the fact of God becoming one of us, to redeem us from our own iniquity, and needing to suffer in order to accomplish that great fact. So our mind must be as His mind in the short time we have to walk as He walked.
It should be said, in relation to this pure religion of non-reputation, that the Lord sees fit to place all of us in the places He wants. James said, "Let the brother of low degree rejoice when he is exalted: but the rich when he is made low" (James 1:9-10). This chaism of language uses the word tapeinos twice, from which we get the word "tapestry." If God so wills that we be lifted up and placed on a wall for all to see, then rejoice. Yet if God so wills that we be placed on the floor to comfort the soles of men, so be that as well. It is not ours to ask why God does what He wants with His servants.  Oswald Sanders, in his classic book on leadership, said, "A desire to be great is not necessarily in itself sinful. It is the motivation that determines its character. Our lord did not discount or disparage aspiration to greatness, but He did pointedly expose and stigmatize unworthy motivation."1 That is why most great men did not necessarily desire greatness, but rather to be godly men, and then God used them in great ways. Spurgeon said, "Many through wishing to be great have failed to be good; they were not content to adorn the lowly stations which the Lord appointed them, and so they have rushed at grandeur and power, and found destruction where they looked for honour. . . A man does well to know his own size."2
There is an abundance of examples in the Bible of men that did not seek the limelight but were thrust into it. John the Baptist said, "He must increase, but I must decrease" (John 3:30) and yet Jesus said of John "Among them that are born of women there hath not risen a greater than John the Baptist" (Matt. 11:11). The apostle Paul was the greatest evangelist that ever lived yet he saw himself as the chief of sinners (1 Tim. 1:15). The apostle John began writing the great treatise on prophecy but described himself as "your brother, and companion in tribulation, and in the kingdom and patience of Jesus Christ" (Rev. 1:9). John Calvin said of himself, "Being by nature a bit antisocial and shy, I always loved retirement and peace . . . . But God has so whirled me around by various events that He has never let me rest anywhere, but in spite of my natural inclination, has thrust me into the limelight and made me 'get into the game,' as they say." 3
It is one thing for a well-known or reputable man to recount how God placed him in high places, but it is quite another for a good and godly man to graciously and gladly accept anonymity from his Lord. For the one, and we have known many such good and reputable men, we "rejoice" as with James' admonition. My own life has been blessed and made better by sitting under, hearing, and learning from such well-known men. I count them my mentors. But then there are the unsung heroes. I heard a friend pray the other day in a small six-person prayer meeting, a black inner-city preacher whom few would know, and bring us all powerfully before the throne of grace. I also heard a retired pastor pray for communion in a small, unknown church in such a wonderful way that it brought tears to one's eyes. Who would venture to say which, of all these servants, is the greatest in the Lord's eyes?
There is a record of a great but unsung servant in the book of Acts: Philip the deacon and evangelist. Here is a man who started out on a path that seemed unlimited. His co-worker Stephen served his Lord in a short but triumphal way, and then Philip took the reins and became the leading evangelist in those days. He was blessed of God to preach city-wide in Samaria and yet gladly accepted the one-on-one ministry in the desert of Gaza. But then, and almost suddenly, Philip is removed from the story and placed in Caesarea for twenty years without notice. Even Cornelius, while in Caesarea, was instructed to find Peter for the message, not Philip. I will let the great Alexander Maclaren tell the story:
"What a contrast to the triumphs in Samaria, and the other great expansion of the field for the Gospel effected by the God-commanded preaching to the eunuch, is presented by the succeeding twenty years of altogether unrecorded but faithful toil! Persistence in such unnoticed work is made all the more difficult and to any but a very true man would have been all but impossible, by reason of the contrast which such work offered to the glories of the earlier days. Some of us may have been tried in a similar fashion, all of us have more or less the same kind of difficulty to face. Some of us perhaps may have had gleams, at the beginning of our career, that seemed to give hope of fields of activity more brilliant and of work far better than we have ever had or done again in the long weary toil of daily life. There may have been abortive promises, at the commencement of your careers, that seemed to say that you would occupy a more conspicuous position than life has had really in reserve for you. At any rate, we have all had our dreams, for
'If Nature put not forth her power
About the opening of the flower,
Who is there that could live an hour?'
And no life is all that the liver of it meant it to be when he began. We dream of building palaces or temples, and we have to content ourselves if we can put up some little shed in which we may shelter.
Philip, who began so conspicuously and so suddenly ceased to be the special instrument in the hands of the Spirit, kept plod, plod, plodding on, with no bitterness of heart. For twenty years he had no share in the development of Gentile Christianity, of which he had sowed the first seed, but had to do much less conspicuous work. He toiled away there in Caesarea patient, persevering, and contented, because he loved the work, and he loved the work because he loved Him that had set it. He seemed to be passed over by his Lord in His choice of instruments. It was he who was selected to be the first man that should preach to the heathen. But did you ever notice that although he was probably in Caesarea at the time, Cornelius was not bid to apply to Philip, who was at his elbow, but to send to Joppa for the Apostle Peter? Philip might have sulked and said: 'Why was I not chosen to do this work? I will speak no more in this Name.'
It did not fall to his lot to be the Apostle to the Gentiles. One who came after him was preferred before him, and the Hellenist Saul was set to the task which might have seemed naturally to belong to the Hellenist Philip. He too might have said, 'He must increase, but I must decrease.' No doubt he did say it in spirit, with noble self-abnegation and freedom from jealousy. He cordially welcomed Paul to his house in Caesarea twenty years afterwards, and rejoiced that one sows and another reaps; and that so the division of labour is the multiplication of gladness.
A beautiful superiority to all the low thoughts that are apt to mar our persistency in unobtrusive and unrecognized work is set before us in this story. There are many temptations today, dear brethren, what with gossiping newspapers and other means of publicity for everything that is done, for men to say, 'Well, if I cannot get any notice for my work I shall not do it.'
Boys in the street will refuse to join in games, saying, 'I shall not play unless I am captain or have the big drum.' And there are not wanting Christian men who lay down like conditions. 'Play well thy part' wherever it is. Never mind the honour. Do the duty God appoints, and He that has the two mites of the widow in His treasury will never forget any of our works, and at the right time will tell them out before His Father, and before the holy angels."4
In 1793 William Carey helped begin the Baptist Missionary Society with Andrew Fuller and others as they sat up late at night in the widow Wallace's house in Kettering. They took up an offering among themselves that night of 2 shillings, 6 pence, about 13 pounds. But Carey was so poor, pastoring a small church and working as a cobbler and teacher to keep his family alive, that he could not contribute to the new missionary fund. But this humble servant who had a year before preached, "Expect great things from God, attempt great things for God," said to the others that since he had no money to give he would give himself. "I go to India to mine for souls. You hold the ropes." Fuller, his dearest friend and the pastor in Kettering, took the challenge personally and became the first (and life-time) treasurer of the society, holding the ropes until his death. Carey went to India for the rest of his life, never returning a single time to his native England. No one knew much at the time about those small-town ministers, but their unselfish service was blessed and multiplied by God.5
Thousands of other great servants of God will make equal sacrifices with no recognition in this life. That is what the Bema Seat of Christ is all about. Paul simply said, "Let every man take heed how he buildeth thereupon . . . Every man's work shall be made manifest: for the day shall declare it" (1 Cor. 3:10, 13). I'm glad we will not be judged for how much, but simply for how we have served. It is still God Who gives the increase.
Our almost one-year-old grandson was home last week for Thanksgiving. He is at that stage where he loves to go up the stairs from the first floor landing to the second floor. He does a great job of going up. He only has one problem, however. He has no idea how to go down—except, of course, head over heels. So I was standing over him on the stairs waiting for the moment he would stand and topple backwards, and at that moment I would catch him. In addition to the guardian role, I began to teach him how to stretch his legs downward, one at a time, feeling for the lower step, until he could feel secure in lowering himself downward, sliding on his stomach. We did not accomplish the task during our visit last week, but he will soon enough. And he will find that going down is as rewarding a task as going up.
I'm glad my heavenly Father stood behind me and caught me all those years when I didn't know how to go down, only up. But His strong arms and divine patience kept me safe until I learned that peace and contentment comes not in going up or in going down, but in going where He leads.
The greatest Christmas gift we could receive from our heavenly Father this year is the graciousness and joy of accepting the "no reputation" status. Those Pharisees who rejected Jesus because He did not offer what they expected, needed trumpets sounding before them as they walked down the street. "Verily, they have their reward" (Matt. 6:2).
"But godliness with contentment is great gain. . . Fight the good fight of faith, lay hold on eternal life, whereunto thou art also called, and hast professed a good profession before many witnesses. I give thee charge in the sight of God who quickeneth all things, and before Christ Jesus, who before Pontius Pilate witnessed a good confession; that thou keep this commandment without spot, unrebukable, until the appearing of our Lord Jesus Christ" (1 Tim. 6:6, 12-14).
"And thy Father which seeth in secret himself shall reward thee openly" (Matt. 6:4).
Notes:
J. Oswald Sanders, Spiritual Leadership (Chicago: Moody Press, 1971) 10-11.
C.H. Spurgeon, Treasury of David, vol. VII, (Grand Rapids: Baker Books, 1978) 87.
From Bruce Shelley, Church History in Plain Language (Dallas: Word, 1995) 256-257.
Alexander Maclaren, Maclaren's Expositions of Holy Scripture on Acts (Grand Rapids: Eerdmans, 1959) 260-262.
Rick Shrader, syllabus, "Discovering Baptist History Tours." aletheiabaptistministries.org.