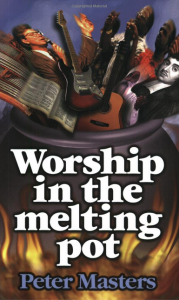 Author: Masters, Peter
Genre: Theology - Ecclesiology
Series:
Tags: Worship / Music
Aletheia's Review:
I had not read this 2002 book on worship by the pastor of Spurgeon's Metropolitan Tabernacle until this year.  I have heard Masters preach often at the Tabernacle so I can visualize the way he was talking about worship.  English worship is by nature different from American worship in incidental details.  Their worship is more deliberate, even slow by our standards, but it is also more reverent and structured—on purpose.  Masters is writing about contemporary worship which is different from English or American traditional worship.  Some interesting points that he makes are:  that worship cannot involve human ability or talent, but only cognitive thoughts and words about what Christ has done by His ability (instruments can and should aid, but not lead); that the instruments mentioned in the Old Testament were not used in worship (except three) but in civil events; that raising hands in worship was never done in the New Testament church, but is only mentioned figuratively; that our hymn singing should not be limited to singing psalms; and that CCM is today's expression of the pre-Reformation Catholicism and other liturgical, aesthetically based worship.  After spending a summer in the UK I can appreciate much of what Peters is describing because I saw it first-hand.  I still like our freedom to speak in the auditorium before and after the service in a casual way (you don't do that in English worship) yet I don't like over-bearing music played (in any form) that eliminates personal conversation.
Quotes from this book:
No items found