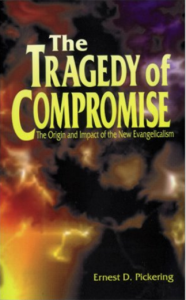 Author: Pickering, Ernest
Genre: Theology - Ecclesiology
Series:
Tags: Church, Methodology, Progressivism / Conservatism
I just received this 1994 book in the mail from a good  friend.   This is a review of the twentieth century from the early Liberal-Fundamental battles to the "marketing" battles today.  Pickering has first-hand knowledge of many of the foremost figures in these controversies.
Having seen all the water go under the bridge, Pickering is concerned about a younger generation picking up the torch.  He writes, "There is tremendous desire among contemporary evangelicals to be accepted by the movers and shakers of this world.  They do not want to be viewed as occupying some tiny theological 'backwater.'  They want a place in the sun.  Recognition by the world is a burning desire.  And many are willing to pay a heavy price to receive such."
Quotes from this book:
No items found