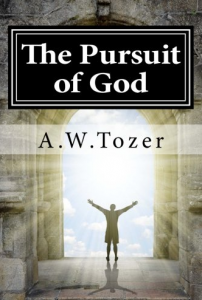 Author: Tozer, A.W.
Genre: Christian Living
Series:
Tags: Christian Living / Cross / Discipleship
Aletheia's Review:
Although I read and reported on this book over twenty years ago in Aletheia, I wanted to read it again connected to some recent study in the believer's devotional life.  Tozer followed A.B. Simpson as the editor and given leader of the CMA, and therefore has been known to many as a modern day pietist.  Tozer does write of a deeper walk with God and often refers to older writers we may call mystics.  The lure of reading Tozer is his outright criticism of the worldly worship of his day (and ours) and his obvious love for God.  In fact, it is almost ironic how moderns quote Tozer so much without following what he was really saying.
Tozer's own description of his "pursuit of God" is on p. 96,  "The pursuit of God will embrace the labor of bringing our total personality into conformity to His.  And this not judicially, but actually.  I do not here refer to the act of justification by faith in Christ.  I speak of a voluntary exalting of God to His proper station over us and a willing surrender of our whole being to the place of worshipful submission which the Creator-creature circumstance makes proper.  The moment we make up our minds that we are going on with this determination to exalt God over all, we step out of the world's parade.  We shall find ourselves out of adjustment to the ways of the world, and increasingly so as we make progress in the holy way."
Quotes from this book:
No items found