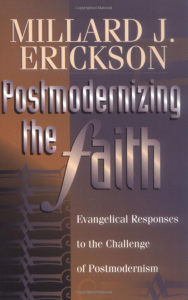 Author: Erickson, Millard
Genre: Theology - Postmodern
Tags: Modernism / Postmodernism
---
Rick Shrader's Review:
This is a 1998 Baker book from a well-known theologian and author.  Erickson admits that this is not his final word on the subject and that such a response is coming in the near future.  This is a review of six leading writers on postmodernism, ranging from David Wells who adamantly opposes postmodernism as a useful Christian tool, to B. Keith Putt who advocates Evangelicalism becoming more postmodern on purpose.  Erickson does do an introduction and a conclusion in which he, more often than not, warns believers of obvious postmodern dangers.
This is not a long book like many on the subject, I think it is a good place to start reading.
Quotes from this book:
No items found