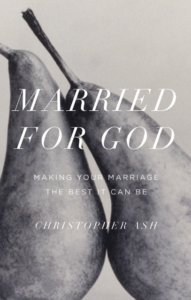 Author: Ash, Christopher
Genre: Christian Living
Tags: Christian Living / Cross / Discipleship, Parenting / Family
---
Rick Shrader's Review:
This is a follow-up book to be read after Christopher Ash wrote (2003) Marriage–Sex in the Service of God.  In this book (2016) he uses that older title as a theme. That first book is almost 400 pages and is much more detailed. This book is only about 170 pages of text and is easier and more concise, and published this time by Crossway Books. I have found Ash very good on the traditional family, marriage, and children. He believes Christian marriage is a covenant made with God as a witness, though he also believes any valid marriage is marriage and seen by God as permanent (an "institution"). Marriage should be done in a public ceremony with vows to one another, and also with the prospect of children. Fornication and adultery are serious matters with God Who never breaks His covenant with His people or is unfaithful in any way. Two interesting points made here but not in the first book are: marriage is still valid and permanent even without the consummation being made (p. 110); and the "gift" of singleness is not so much a spiritual gift but is the situation in which God has placed you at the moment. Therefore, marriage is also a gift, and your situation can change if God wills (p. 126). I also found two helpful points: God is a God of grace and forgiveness and we should seek forgiveness and restitution for sinning brothers or sisters first of all; and, secondly, when all is said and done, all believers will be equal members of the bride of Christ for eternity.
The book is very quotable and worth the read.
Quotes from this book:
No items found