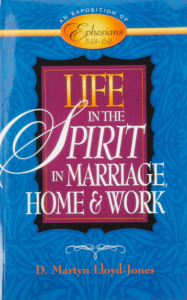 Author: Lloyd-Jones, Martyn
Genre: Christian Living
Series:
Tags: Christian Living / Cross / Discipleship
Aletheia's Review:
Martyn Lloyd-Jones (1899-1981) was a Welsch physician-turned-preacher who served at Westminster Chapel, briefly under G. Campbell Morgan, becoming the senior pastor in 1943 during the war years when Morgan retired.  Jones preached against liberal Christianity and the ecumenical movement.  Though leaning toward pietistic positions of the Spirit, Jones was a powerful preacher in London in the war and post-war years.  This book is one in a series on Ephesians and has special application to being filled with the Spirit and its influence on family life.
Quotes from this book:
No items found