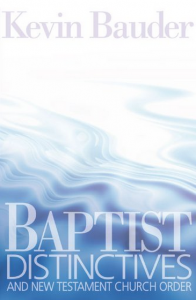 Author: Bauder, Kevin
Genre: Theology - Baptist
Tags: Baptist / Baptists, Doctrine / Theology
---
Rick Shrader's Review:
We welcome new and fresh writing on Baptist polity.  Kevin Bauder is research professor  of systematic theology at Central Baptist Theological Seminary in Plymouth, MN.  The more Dr. Bauder writes, the better it is for fundamental Baptists.  Bauder departs from the traditional acrostic outline for Baptist distinctives and presents the material in six divisions as Part One.  These are the authority of the New Testament; believer baptism; pure church membership; individual Christian responsibility; congregational government; and separation of church and state.  These chapters were a great blessing to me as I reviewed again our great purposes as independent Baptists.
The second section of the book is given to specific topics which greatly affect our polity.  They are Baptists and organizations; church councils; Landmarkism; baptismal regeneration; and organizing a Baptist church.  Bauder is careful to explain that being independent first and foremost, Baptists do not view these issues with unanimity.  However, the way in which they are presented  benefits all.
Quotes from this book:
No items found