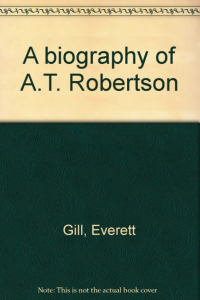 Author: Gill, Everett
Genre: Biography
Series:
Tags: Baptist / Baptists
---
Rick Shrader's Review:
Archibald Thomas ("A.T.") Robertson was born November 6, 1863 and died September 24, 1934.  He was a Southern Baptist all of his life and arguably the greatest Greek Grammarian of the last and present centuries.  This story of his life is told by a colleague in a personal and delightful way.
Of historical interest is the history of the SBC.  Robertson was involved in the controversy over Landmarkism, "The Whitsitt Controversy," so-named after Dr. Wm. Whitsitt, President of the Louisville Seminary.  Whitsitt was forced to resign because of pressure from "Romish dogmas" which were "contrary to historic Confessions of Faith of Baptists."
This is a stirring story of scholarship and personal integrity in the post war South.
Quotes from this book:
No items found