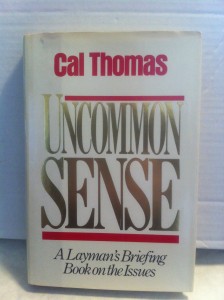 Author: Thomas, Cal
Genre: Politics / Government
Series:
Tags: Culture / Worldview, Democracy / Government / Politics
Aletheia's Review:
George Will called Cal Thomas a ''moral environmentalist.'' Thomas is a Christian editorialist who has gained the respect of the political arena. I rely on him to give a Christian perspective of current events and issues.  This is a 1990 edition that contains a number of writings on moral issues from abortion to Israel. It is a good buy in the bookstore and it will bring you up to date on topics that you don't have time to thoroughly pursue.
Quotes from this book:
No items found