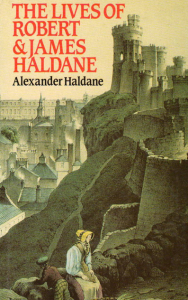 Author: Haldane, Alexander
Genre: Biography
Series:
Tags: Baptist / Baptists
Aletheia's Review:
Robert and James Haldane were brothers who came to the Lord and ministered in their native Scotland in the late 1700s and early 1800s.  Many have read or used Robert Haldane's classic commentary on Romans (which was required even in Bible College).  On each trip to Scotland we attend the Charlotte Baptist Chapel in Edinburgh which the brothers founded and  James Haldane pastored.  It has been pastored by other men since then such as Graham Scroggie and J. Sidlow Baxter.  These brothers were largely responsible for the Baptist movement in Scotland, at least in an organized way.  They were rather wealthy and used their inheritance to fund many Baptist works.  Both men were prolific writers and powerful preachers.
Quotes from this book:
No items found