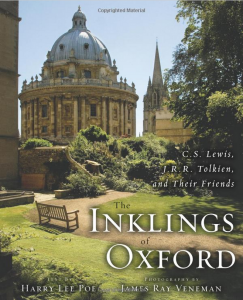 Author: Poe, Harry Lee
Genre: Biography
Tags: Thinking / Reading
---
Rick Shrader's Review:
Photographs by James Ray Veneman
I acquired a curious taste for C.S. Lewis some years ago which helped me in reading and reasoning.  I also found G.K. Chesterton at that time, and the two together took a lot of my time.  I never got the same satisfaction from Tolkien., not even from his slimy and demonish Lord of the Rings.  Having visited Oxford, England a few years ago, I enjoy the history and the pictures.  My sister (Debra Conley) and I ate at The Eagle and Child, a later gathering place for these Oxford Inkings.  Actually, this "think tank" of literary writers called "The Inklings" was one of a few that Lewis and Tolkien organized.  Attendees included C.S. Lewis' brother Warnie, Owen Barfield, Nevill Coghill, Hugo Dyson, Adam Fox, Charles Williams, and even Dorothy Sayers.
Quotes from this book:
No items found