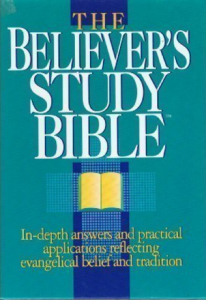 Author: Criswell, W.A.
Genre: Bible Studies / Devotionals
Series:
Tags: Bible
Aletheia's Review:
I was given a nice leather edition of this new Study Bible by a friend who recommends it.  I have been doing my Old Testament reading from it this year.  One of the advantages to the newer Study Bibles is the capability to reproduce graphic designs within the footnotes, as well as graphs and charts and even pictures.  This is produced since 1991 by the Criswell Center for Biblical Studies and W.A. Criswell is the editor.  It has a conservative flavor and even a premillennial bent to the notes.  Some of the contributors include, Adrian Rogers, Jerry Vines and John MacArthur.
Quotes from this book:
No items found