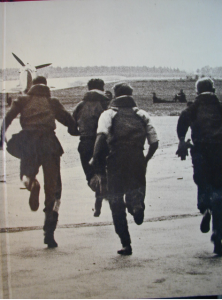 Author: Mosley, Leonard
Genre: History
Series:
Tags: Democracy / Government / Politics
I was on vacation and finished the only book I had with me so I bought this volume in an antique store.  I collect a lot of things about WWII and also have an interest in Britain.  The pictures in these volumes are stirring enough but the text is very good also if you have the time to read it, which I did.  The years in which Britain was bombed was truly "their finest hour."  It was interesting to see that a large concentration of bombs were dropped around Elephant and Castle, the location of Spurgeon's Tabernacle which, of course, was all destroyed except the front portico.  Today's church is a newer model attached to that original portico.  Spurgeon's tomb in West Norwood Cemetery was also slightly moved and partly opened by the bombing but quickly restored.  Unlike Jesus' day, no bodies came out and walked into town!
Quotes from this book:
No items found