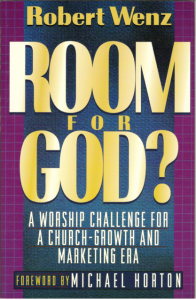 Author: Wenz, Robert
Genre: Theology - Ecclesiology
Series:
Tags: Evangelism / Outreach, Worship / Music
I was pleasantly surprised with my first book by Robert Wenz (thanks, Rob). Forwarded by Robert Horton, their books read much the same way.  It is a conservative look at the local church worship service from a balanced approach.
Among much more, Wenz offers these words. ''We must guard the integrity of the drama of redemption–complete with a full disclosure of our sinfulness and God's holiness–as the only proper foundation for worship.  Tampering with that drama to minimize sin results in minimizing God's grace, minimizing his glory, and minimizing our worship.''
''Worship and evangelism are inseparable ministries of the church. The church exists to worship and to call others to worship as well. If the church is not effective in its witness, the diagnostic chart might well indicate that people are not truly entering into worship–life-changing worship–in the presence of God.''
Quotes from this book:
No items found