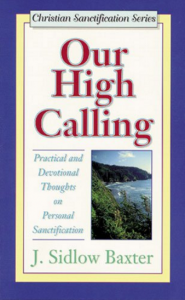 Author: Baxter, J. Sidlow
Genre: Theology - General
Tags: Christian Living / Cross / Discipleship
---
Rick Shrader's Review:
I finally got around to the third book by Baxter on Christian holiness.  I have liked his definitions of sanctification and holiness as a remedy for a  disease that lies within each of us, an infection that was inherited from Adam.  We can be healthy or we can be unhealthy, but we always live with the disease.
Baxter does not believe that a Christian ever becomes sinlessly perfect, but he does believe that there is a place of sanctification that releases one's service and energy to God in a greater way.  He cites many famous saints who gave testimony of such an experience but the Scriptural references are less frequent.
Quotes from this book:
No items found