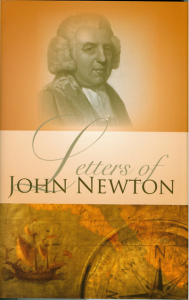 Author: Banner of Truth Trust
Genre: Biography
Series:
Tags: Hymns, Worship / Music
We all know John Newton as the author of Amazing Grace, perhaps the best-known gospel hymn of all time.  We also may know him as a converted slave trader who contributed to the English abolition movement in the late 1700s.  Fewer may know him as a conservative (though Anglican) pastor of two parish churches during that same time.  During his first pastorate in Olney (famous for his "Olney Hymns" with William Cowper), he welcomed a dissenters' meeting to be held often in his church  building.  That meeting happened to include William Carey and Andrew Fuller.  Even fewer (myself included until reading this book) would know him as a powerful writer of theological and devotional thought.  His insight in applying biblical principles to the struggle for godliness is highly unusual in today's devotional literature.  Newton begins with man's depravity and ends with man's sanctification.  A very satisfying read.
Quotes from this book:
John Newton
on
Brethren
[A believer] "loves the Lord's people, accounts them the excellent of the earth, and delights in their conversation.  He is longing, waiting, and praying, for a share in those blessings which he believes they enjoy, and can be satisfied with nothing le …
John Newton
on
Abortion
"Unnatural lusts, and the want of natural affection toward their offspring, are abominations not to be found among the brute creation.  What shall we say of mothers destroying their children with their own hands, or of the horrid act of self-murder!  M …