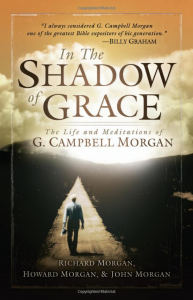 Author: Morgan, Howard, Morgan, John, Morgan, Richard
Genre: Biography
Series:
Tags: Doctrine / Theology
I'm always interested in biographies of English preachers and ministers, especially those whom we study or recognize on our UK tour each Spring.  Morgan (1863-1945) was one of England's greatest pulpiteers.  This short volume was written by his grandchildren and their spouses in 2007 and is sadly disappointing.  No doubt because of their close connection with Chicago Theological Seminary, the volume seems to me (a life-long reader of Morgan) to be a rewrite of this great man's life to make him to be an advocate of women ministers (11, 21) and social justice (11); an equal to Harry Fosdick (15); an early user of lectio divina (24); a denier of a literal hell (48); and other such things.  They don't even mention that he was greatly influenced through the ministry of D.L. Moody in the UK, and when they mention the Northfield Conferences in which he participated with many American Fundamentalists, they only say that he was attempting to correct "dishonest use of biblical texts to justify preconceived beliefs" (24).  I only take time with this to underscore our current need of guarding our good Christian history.
Quotes from this book:
No items found