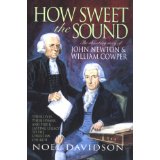 Author: Davidson, Noel
Genre: Biography
Tags: History
---
Rick Shrader's Review:
The absorbing story of
John Newton & William Cowper
I love these biographies, both because I love to read of men and ministries, and because I have been to their houses and churches in Olney and London, England myself. Having been there, I walked with the author of this book through the little town of Olney, through the guinea orchard with Newton and Cowper, and sat in the garden house where Cowper composed "There is a Fountain Filled with Blood." Newton is probably best known for his former life before conversion as a slave trader, but I think of him as a pastor and hymn writer, especially known for writing his hymn "Amazing Grace." Cowper, his poet friend, and Newton are also well known for their compilation of hymns into a hymn book called "The Olney Hymns," 348 in all, 280 by Newton. Both are reminders of a need for a closer walk with God.
Quotes from this book:
No items found