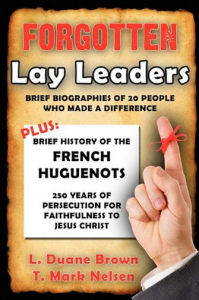 Author: Brown, Duane, Nelson, Mark
Genre: Biography
Series:
Tags: Baptist / Baptists
I was given this book by Dr. Brown who was the president of Denver Baptist Theological Seminary when I was a student.  It is a quick read about forgotten heroes of the faith, forgotten because they were never well known.  I especially enjoyed the stories of American wilderness history and those related to English history:  Newton/Cowper and Carey/Gotch.  The last section on the history of the French Huguenots by Mark Nelson and the story of  La Rochelle, France was very unusual and interesting.
Quotes from this book:
No items found