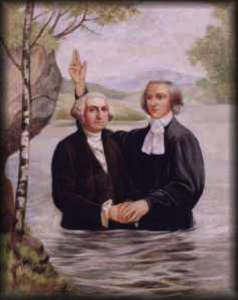 Author: Bennett, William
Genre: History
Series:
Tags: Baptist / Baptists
David Benedict was a nineteenth century Baptist historian who was well known in his day though not well known today.  He was a Missionary Baptist and traveled extensively in the United States and wrote history including:  "History of the Baptists", 1813; "Abridgment of Robinson's History of Baptism," 1817; "Abridgment of History of the Baptists," 1820; "History of all Religions," 1824; "History of the Baptists Continued," 1848; and then "Fifty Years Among the Baptists" in 1859.  All of this while pastoring for 25 years in Pawtucket, R.I.  This book of 300+ pages and 29 chapters tells of Benedict's experiences among Baptists over a 50 year period of his life, decade by decade.  Of course, the book is filled with quotable anecdotes and illustrations but also with interesting history about controversies that remain today.  Very interesting read and a great find in a used book store.
Quotes from this book:
No items found