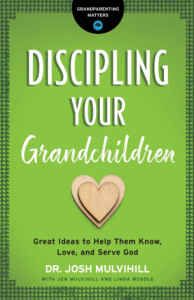 Author: Mulvihill, Josh
Genre: Christian Living
Tags: Senior Saints
---
Rick Shrader's Review:
This is a 2020 book by Josh Mulvihill, the fourth one that I've read. It is a departure from the first three in that it is a book of  "how-to-do-its" for grandparents. Mulvihill usually writes on biblical topics related to grandparenting. However, discipling our grandchildren is important and can be overwhelming for many. I will let the author explain:
"A few years ago I had the privilege of interviewing Christian grandparents all over America about their role as a grandparent as part of my PhD dissertation. I discovered that many Christian grandparents desire to help grandchildren grow in Christlike maturity, but there is a disconnect between stated priorities and the way grandparents use time with their grandchildren. I found that grandparents spoke about the importance of the spiritual growth of grandchildren; however, it commonly was not reflected in how they operated as a grandparent, revealing that the spiritual life of a grandchild was not as important as they claimed. We've written this book to help grandparents align their grandparenting practices with stated spiritual priorities and biblical principles." The book is co-authored with his wife Jen and Linda Weddle.
Quotes from this book:
No items found