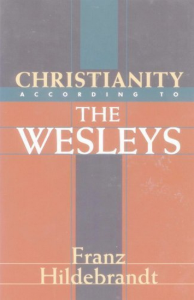 Author: Hildebrandt, Franz
Genre: History
Series:
Tags: Doctrine / Theology
This ninety page book was originally given as a lecture in 1954 as a defense of historic Methodism.  Historic information is taken largely from the letters, literature and music scores of the Wesleys.  From the author's point of view, John and Charles Wesley started a back-to-the-Bible movement from within the Church of England which grew far larger than even they envisioned.  The emphasis was upon true Christian holiness and a "catholic" spirit for evangelism.  From an "outsider's" point of view it is a reminder that Wesley was, after all, an ordained Anglican and that his views of a sacramental soteriology are far closer to the Church of England than to the dissenters and nonconformists whom the Church persecuted.  Interesting and in some ways even inspiring.
Quotes from this book:
No items found