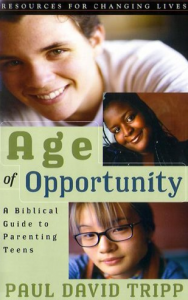 Author: Tripp, Paul David
Genre:
Series:
Tags:
---
Rick Shrader's Review:
Paul David Tripp is not the same kind of writer as Tedd Tripp (Sheperding a Child's Heart).  Though both have doctorates from Westminster Theological Seminary, Paul David seems to be much more progressive in his style of parenting.  There was much good advice having to do with conversations and building relationships.  To Paul David Tripp, however, worldliness is something to be understood and the culture something to be redeemed.  Rules always turn out bad (the old defiinition of "legalism") and experimentation is always better.  The subject of leading a child to Christ is not dealt with or is only talked about in a general way.  When it is it sounds very much like a Free Grace perspective.  Tripp's connections with Mark Driscoll, the Aberystwyth Conference in Wales, and the Liberate Conference and others, ought to give the conservative reader reason to be cautious with Paul David Tripp.
Quotes from this book:
No items found