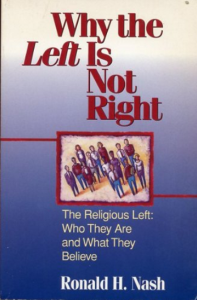 Author: Nash, Ronald H.
Genre: Politics / Government
Tags: Democracy / Government / Politics, Progressivism / Conservatism
---
Rick Shrader's Review:
This book is subtitled "The Religious Left:  Who They Are and What They Believe."  It is a critique of liberal political action taken by left-wing evangelicals  including socialist and communist connections within the WCC and NCC.  I was pleasantly surprised that Nash takes the conservative stance he does while criticizing fellow evangelicals.
Of special interest in this book is detailed information on Tony Campolo's left-wing political and religious ties, and a long chapter on President Bill Clinton's connection to Southern Baptists in Arkansas as well as his responses to the super-liberal Foundry United Methodist Church in Washington.  Interestingly, this is a church from which Bob Dole withdrew his membership because of the same liberalism.
Quotes from this book:
No items found