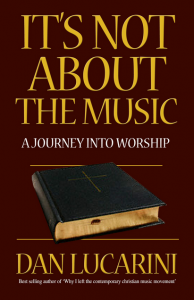 Author: Lucarini, Dan
Genre: Theology - Ecclesiology
Series:
Tags: Worship / Music
Aletheia's Review:
This is Dan Lucarini's third book.  His first book, Why I Left The Contemporary Christian Music Movement, had an immediate impact on today's worship wars.  His second book which he co-authored with John Blanchard, Can We Rock The Gospel, was an even better detailed analysis of CCM and its effects on the church.  This book takes a slightly different tact into the biblical necessity for right worship.  Dan argues for genuine worship through sacrifice, praise, koinonia, and the "missing jewels" of prayer, Scripture reading, and the ordinances.  Part II is titled "Wrong turns and cul-de-sacs," in which he deals with the fakery going on in many circles of contemporary worship.  The last of the book encourages churches to return to genuine and humble worship with little worry about what the world thinks.  I thoroughly enjoyed the chapter, "Take the tube to Elephant & Castle" (a ride on the London subway to Metropolitan Tabernacle). I've been there and done that!
Quotes from this book:
No items found