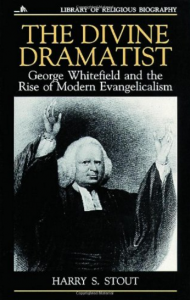 Author: Stout, Harry
Genre: Biography
Tags: Baptist / Baptists, Ministry / Leadership
---
Rick Shrader's Review:
NOTE:  In recent months I have reviewed a number of biographies.  Some have been older editions and some newer.  My objectives are these:  to be uplifted by the faith of past saints, many of whom have struggled and suffered far more than we; to notice parallels in history of circumstances and issues that we face, hoping to see how wise men of the past dealt with them; to put doctrines and perspectives in historical context; and to glean illustrative material from real-life situations.  My purpose in reviewing them is simply to tell what I have found.
George Whitefield:  Divine Dramatist
By Harry Stout
Though I did not like Stout's editorials, I thoroughly enjoyed the life of this most interesting character.  A little over five foot, baby-faced and cross-eyed, few preachers have spoken with as much power from God.  Formerly in theater (hence the title) Whitefield paid a heavy price in his later ministry for his continued stand against the theater which he labeled the devil's church.  In addition, he was the greatest friend black children and slaves had in the colonies.
Quotes from this book:
No items found