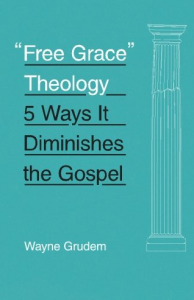 Author: Grudem, Wayne
Genre: Christian Living
Series:
Tags: Christian Living / Cross / Discipleship
Aletheia's Review:
Wayne Grudem wrote this valuable book in 2016.  He points out that the Free Grace movement diminishes the gospel in a number of ways.  Free Grace is a movement that insists that faith must stand alone i.e., it is not accompanied by repentance, acceptance (fiducia), good works, or even assurance.  To add any of these to faith is to add human work to salvation.  Faith is simply an acceptance of the facts (assensus) about Jesus and His work.  Grudem points out that though the Reformers and most Protestants have always cried "faith alone," they also insisted that the faith that justifies is never alone.  Grudem's 5 critiques are 1) Free Grace does not teach the faith alone of the Reformers, 2) Free Grace has no call to repent of sins, 3) Free Grace gives false assurance, 4) Free Grace underemphasizes trust in the person of Christ, and 5) Free Grace is based upon a number of "unlikely" interpretations of key Bible texts.  As an added note, Grudem does not include lordship salvation as a part of this discussion because lordship advocates or non-advocates may either disagree with the Free Grace position.  Free Grace, however, is always an anti-lordship position.
Quotes from this book:
No items found