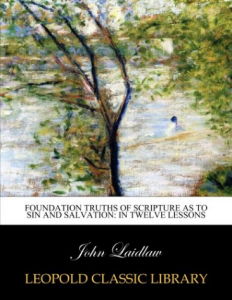 Author: Laidlaw, John
Genre: Theology - Soteriology
Tags: Doctrine / Theology
---
Rick Shrader's Review:
Professor John Laidlaw, D.D. (1832-1906) was born and educated in Edinburgh, Scotland, teaching first in the Reformed Presbyterian Church but later joined the Free Church of Scotland.  This book, published by T. & T. Clark in 1897, is a book of doctrine laid out much like a systematic theology but much shorter.  It is one in a series called "Handbooks for Bible Classes" and is edited by Marcus Dods and Alexander Whyte.
Laidlaw can bless the reader in many ways especially in dealing with the nature and origin of sin or the person and work of Christ.  He does not depart from his Presbyterian roots in regeneration.  "Regeneration is the absolutely initial grace, the very first step in personal salvation (Tit. 3.5). . . . That the person who is thus being changed is, at the time of the change, passive, if not even unconscious of it, as the analogy of Birth and Creation seems to imply. . . . If grace has been given early, the soul has been, there and then, born of the Holy Spirit.  In that case, what is called Conversion may be like the gentle unfolding of a flower, which grows from a living root."  Again, while being careful with the theology many blessings can be had in reading these older divines.
Quotes from this book:
No items found