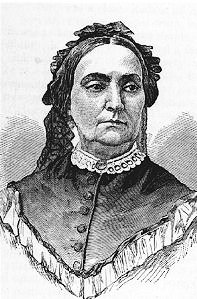 Lydia Odell Baxter
Repertoire:
Take the Name of Jesus With You (Precious Name)
Lydia Odell Baxter 1809 – 1874
Lydia was born in Petersburg, New York, September 2,1809, to Jonathan and Mary Odell.  As young ladies, Lydia and her sister came to Christ through the preaching of Baptist Home Missionary Ebenezer Tucker.  After their salvation, the sisters became active Christians and were among the establishing members of the Petersburg Baptist Church which was founded in 1820 and is still active in the community.  Eben, as the Missionary was known, eventually travelled west into Tennessee and Kentucky and was very active preaching the Gospel and establishing churches within the Creek Nation.
As a young lady, Lydia attracted the attention of a local businessman, John Baxter.  They married in 1832 and sometime after that, she led him to the Lord in salvation.  The couple moved to New York City and shortly after the move she became an invalid and often bed-ridden.  This did not stop her from studying the Bible and writing.  In 1855, she published Gems by the Wayside, a book of approximately 265 devotional poems and hymns.  The introduction states her ongoing testimony: "Many of these effusions have been penciled while suffering affliction from the hand of a merciful God;"
Their home became known as a place where Christian workers, preachers, and evangelists would gather to fellowship.  Lydia was particularly interested in the study of Bible names and their meaning, but the most special name to her was the name of Jesus.  Whenever asked how she could be so positive despite her physical difficulties, she would reply, "I have a very special armor.  I have the name of Jesus.  When the tempter tries to make me blue or despondent, I mention the name of Jesus, and he can't get through to me anymore."
Her special relationship with her Savior led her to write many hymns and poems but "Take the Name of Jesus With You" is the only one which remains in use today.  Many also know the song as "Precious Name."  The hymn was written in 1870 and first published in 1871 in a hymnal, "Pure Gold."  The song was very popular in the Moody Crusades.  The first verse points us to her testimony:
Take the Name of Jesus with you,
Child of sorrow and of woe,
It will joy and comfort give you;
Take it then, where're you go.
---