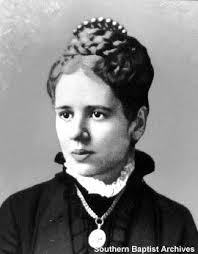 Katherine (Kate) Hankey
Repertoire:
I Love to Tell the Story
Tell Me the Old, Old Story
(1834-1911)
Katherine (Kate) Hankey was born into the family of a wealthy London banker in 1834.  It is not known today of how or when Kate was saved, but her family was active in the influential group known as the Clapham Sect and she was further inspired by the Methodist Revival of John Wesley.  The Clapham Sect was centered around Clapham, a village south of London.  John Newton and William Wilberforce are the most remembered of the group.  Wilberforce became a passionate Christian at the age of 26 after reading Philip Doddridge's Rise and Progress of Religion in the Soul.  This caused him to realize that he was not a Christian and had never died to himself.  After this decision, he submitted his life to Christ and began to evangelize those around him.  The group preached and taught that our spiritual relationship was not to an historic institution but to God.  They taught that the emphasis should not be on the Sacraments or the Liturgy of the Church, or the esthetics of worship, but on the necessity of a New Birth and following the guidance of the Holy Spirit in our individual life.  The group included such individuals from other Non-Conformist groups, Quakers, and Independents, but the glue that held them together was their belief in the individual need for a personal relationship in Jesus Christ.
Hankey took this teaching and her belief to heart.  While still in school, she and her sister became active Sunday School teachers in the community.  In her later teens, she started a Bible class for shop girls in London which produced many Sunday School teachers and Christian workers.
Kate also developed a strong interest in missions that happened because of her trip to South Africa to care for and bring home her invalid brother.  This was more than just a passive interest or words, for she later contributed to missions all the royalties from her publications which included Bible Class Teachings and The Old, Old, Story and Other Verses.
Probably as the result of this trip, Kate became seriously ill.  It was during the lengthy period of recovery that she wrote The Old, Old Story, a long poem about Jesus.  The poem, written in 1866-1867, consists of two main parts. The first part is titled, The Story Wanted and was written in January 1866. The second part is titled The Story Told, and was written in November 1866. The complete poem was first published in 1867.  From this poem come two well-known hymns: "Tell Me the Old, Old Story" and "I Love to Tell the Story."  The challenge is still vital today:
The Old, Old Story, Part 2
The Story Welcomed
Let everybody see it,
That Christ has made you free;
And if it sets them longing,
Say, "Jesus died for thee!"
Soon, soon, our eyes shall see Him!
And, in our home above,
We'll sing "the old, old story"
Of "Jesus and His love!"
Hymn Writers of the Church – Charles S. Nutter
The Gospel in Hymns – Albert E. Bailey
The Old, Old Story – Katherine Hankey
---