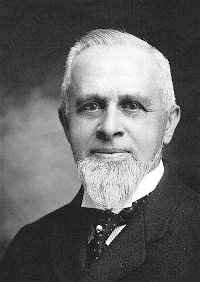 William H. Doane
Repertoire:
Draw Me Dearer
I Am Thine, O Lord
More Love to Thee
Near the Cross
Pass Me Not
Rescue the Perishing
Take the Name of Jesus with You
Tell Me the Old, Old Story
To God Be the Glory
Will Jesus Find Us Watching?
A Deeper Love
(February 1832 – December 1915)
Dr. William H. Doane was born in Preston, CT, the fifth of eight children of Joseph and Frances Doane.   His father was the head of Doane and Treat, cotton manufacturers.  He attended public schools and Woodstock Academy, a private secondary school affiliated with the Congregational Church in Woodstock, CT.  His musical talents were obvious, and he was selected as the school's choir director.   Very early he was playing the flute, violin, double bass fiddle, and cabinet organ and at sixteen, he composed his first piece of music.  William was saved as a teenager in 1847 and later baptized by Rev. Frederic Denison, uniting with the Central Baptist Church in Norwich, CT.  On November 2, 1857, Doane married Mary Frances Treat, the daughter of his father's business partner in the cotton manufacturing business.
He worked in his father's business three years and in 1850 he took a position with the firm of J. A. Fay & Co., manufacturers of woodworking machinery, in Norwich, CT.  In 1860 he became the Managing Partner with headquarters in Cincinnati.  A short time later he was made President.  It was one of the most extensive businesses in its line with connections in many of the principal mercantile centers of the world. During his leadership, the company filed many patents for wood making machinery.  There were more than seventy patents registered in his name, giving him credit for the inventions.  Under his leadership the company won numerous accolades around the world, including at the Paris Exposition of 1889, where it was awarded the 'Grand Prix' and Doane was honored as a 'Chevalier of the Legion of Honor.'
Doane emerged as a prominent figure in Cincinnati's business and cultural life and his business skills extended beyond manufacturing.  He served as President of the Central Trust and Safe Deposit Company and as a Director of the Barney and Smith Car Company of Dayton, Ohio.  He was recognized for his achievements and was elected to 'Fellow' status in several professional organizations, including the American Society of Mechanical Engineers, the American Society of Mining Engineers, the American Geographical Society, and the American Society for the Advancement of Science.
Doane and his wife settled in Mt. Auburn, a Cincinnati, Ohio, suburb.  They joined the Mt. Auburn Baptist Church and became active members.  He served long tenures as the Superintendent of the Sunday School and choir director.  He was recognized as a denominational leader being appointed to lead the Ohio Baptist Convention Ministers Aid Society.  The church is located a short distance from the Doane family's residence, Sunny Side.  Both the church and their residence are still in existence.  Sunny Side contained many reminders of Doane's love of music.  The music room transom contains engraved opening strains of Home, Sweet Home.  Various musical items including paintings, drawings, and frescoes are located at points on the ceiling and along the walls.  He has also collected many antique instruments and music from around the world.  His prize piece was a grand pipe organ with four measures of the Hallelujah Chorus frescoed into the ceiling above.
Doane devoted himself to musical composition and many of his tunes are as familiar as the words to the poems.  In fact, if we hear just the first few bars, we will know the song they were written for.  He composed many thousand gospel hymns and songs, Sunday School and church songs, and many other songs, ballads, anthems, and cantatas.  He was a longtime collaborator of Fanny Crosby, having written music for an estimated 1,500 of Crosby's poems but he also composed music for Lydia Baxter (Aletheia, December 2017) and Catherine Hankey (Aletheia, January 2018).
Among the well-known hymns for which the music was composed by Dr. Doane are:
Draw Me Nearer (Fanny Crosby)
I Am Thine, O Lord (Fanny Crosby)
More Love to Thee (Elizabeth Prentiss)
Near the Cross (Fanny Crosby)
Pass Me Not (Fanny Crosby)
Rescue the Perishing (Fanny Crosby)
Take the Name of Jesus with You (Lydia Baxter)
Tell Me the Old, Old Story (A. Catherine Hankey)
To God Be the Glory (Fanny Crosby)
To the Work! (Fanny Crosby)
Will Jesus Find Us Watching? (Fanny Crosby)
He became was a close friend of composer Rev. Robert Lowry, D.D. (Aletheia, June 2018) and together they published more than 40 hymn and song books.  They also compiled and edited The Gospel Hymn and Tune Book for the American Baptist Publication Society and Doane was one of the musical editors of  The Baptist Hymnal.
Doane was a very liberal man in the true sense of the word.  He and his wife generously supported Baptist Churches and institutions.  He was an important contributor to the Granville Academy, a school for boys preparing to enter Denison University.  Because of his ongoing support, which included funding to build conservatory buildings for music, art, and a gymnasium, the academy was renamed the Doane Academy in 1895.  At that time, Denison was a school with strong Baptist heritage.  On the Denison campus his name is on the Doane Administration building (1895), Doane Gymnasium (1905), William Howard Doane Library (1937) which was a gift of Doane's daughters in their father's memory, plus a pipe organ donated by Doane and located in the Library.  Today, the Doane Memorial Music Building continues to house the Music Department faculty, various music classes, and practice rooms for students.  In 1875, Denison University bestowed upon him the title of Doctor of Music.  His philanthropy also included Moody Bible Institute, several Baptist churches, the YMCA, the Fanny Doane Home for Missionary Children in Granville and many other religious and civic organizations.  His support for the Moody Bible Institute is memorialized in the Doane Memorial Music Building.
Dr. Doane is a vivid example that our Christian Life does not necessarily lead us to an "either-or" situation.  He demonstrated a remarkable range of talents and achievement throughout his lifetime. His musical gifts included performance abilities with several instruments, hymn and cantata composition, and choral direction. He showed astute business and financial skills which propelled him to the presidency of an important manufacturing company by the age of thirty-four.  His devotion to his Christian faith, local Baptist church, and its broader denominational interests was widely recognized.  It would be a difficult task to find an evangelized place that does not continue to be affected by the results of Dr. Doane's love.
Doane died in South Orange, NJ, December 23, 1915 and is buried in Spring Grove Cemetery in Cincinnati, Ohio.
Deeper Love
Deeper love, yes, deeper love,
This our constant plea;
Deeper love, yes, deeper love,
Till we're lost in thee.
(Doane: Unpublished song)
Bibliography
Baptist Hymn Writers and Their Hymns, Henry S. Burrage, 1888
Biography of Gospel Song and Hymn Writers, J. H. Hall, Fleming H. Revell Company, 1914
Men and Women of America: A Biographical Dictionary of Contemporaries; L. R. Hamersly and Co., New York City, 1910
---