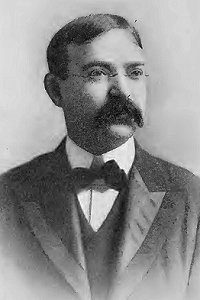 Joseph Lincoln Hall
Repertoire:
Does Jesus Care?
Glorious Freedom
I Belong to the King
(1866 – 1930)
Joseph Lincoln Hall, was born in Philadelphia on November 4, 1866.  He grew up with seven brothers and sisters in a home full of music.  His parents, Joseph M. and Barbara Hall, were well known and accomplished musicians.  He inherited his musical talent and fondness of music from them.  He attended the Philadelphia Public Schools and it was during this time that his interest in music became apparent.  When he was nineteen years old, he was appointed choir master of a choir of more than one hundred members, leading them for the next ten years.  In June 1896, he married Eva Wethington at the Methodist Midtown Parish in Philadelphia.  Hall also wrote and published under various pseudonyms which included Maurice A. Clifton, Alfred Judson, Clyde Willard, and Arthur Wilton.
Hall's musical education was exceptional for the time and among his peers.  He graduated from the University of Pennsylvania with a Bachelor of Music degree with High Honors in 1901.  This program was rigorous and among the first of a four-year degree in music offered by any of the major U.S. universities.  The work included thorough training in which he studied music theory and history.  This included the study of harmony, orchestration, counterpoint, and fugue.  As part of the graduation requirements, he composed a Mass in D minor, orchestrated for full orchestra.  The fact that Hall finished this degree at the age of 35, at a time when his publishing business was booming, is evidence of his determination to broaden his horizons.  He later received the honorary degree of Doctor of Music from Harriman University.  He was truly an educated musician and used that education to introduce the nation to gospel music.
Joseph grew up during the era of the great, modern revivals and revivalists.    It was during this time when many of the great gospel hymns, songs, and song leaders became dominant.  Homer Rodeheaver, who for 20 years led singing for the Billy Sunday revivals, had a formula.  He stated that to be successful a gospel song had to have: "a simple, easy, lilting melody which they (meaning the attendees) could learn the first time they heard it, and which they could whistle and sing wherever they might be."  The next time you catch yourself whistling or humming one of those great old songs, remember to thank him for his part.
Hall is best remembered today for his gospel song composing and publishing through the Hall-Mack Company of Philadelphia.   He joined with Irvin H. Mack in founding that company in 1895.  Through this association, he became one of the leaders of a group of gospel song composers and writers in the Philadelphia area producing everything from an oratorio in the classic style to a simple gospel song.  He also became involved with the growing Camp Meeting and Bible Conference movement  that became popular during that time.  He was personal friends with such gospel music greats as C. Austin Miles, Eliza Hewitt, and William J. Kirkpatrick.  He was known for his classical church music as well writing dozens of cantatas and several volumes of anthems as he introduced the practice of arranging classical works by composers such as Beethoven, Verdi, Wagner, Dvorak, and Schubert to support the new gospel music.  As head of Hall-Mack Publishers, he was responsible for producing more than 400 hymns, anthems, and cantatas during his career along with editing and publishing 35 gospel hymn books.  Today, there are at least three of his compositions still in use, each with a wonderful message.  They are Does Jesus Care? by Frank Graeff, Glorius Freedom by Haldor Lilleanus, and I Belong to the King by Ida Reed.
Of all that he accomplished during his long career, he always said that the music he created in 1901 for Frank E. Graeff's Sunday School song Does Jesus Care?, was his most inspired.  And I would have to agree.  If you don't know this wonderful song, here is the refrain:
Oh, yes, He cares, I know He cares,
His heart is touched with my grief;
When the days are weary,
the long nights dreary,
I know my Savior cares.
Sources
Charles Gabriel, Gospel Songs and Their Writers
Jacob Henry (JH) Hall, Biography of Gospel Song & Hymn Writers
Patricia Woodard, The Hymn, Joseph Lincoln Hall: Gospel Song Composer, Editor, Publisher
www.Hymnnary.org
www.Wordwisehymns.com
---